Undergraduate Teacher – Early Childhood Education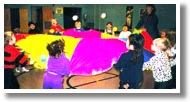 In the early childhood education program at UMBC undergraduate and graduate teacher candidates complete a course of study that can lead to certification as a teacher of children from Pre-K through grade 3. While many early childhood teacher candidates plan to teach young children in public schools, others are preparing for careers in private schools or child care centers where they hope to take on leadership positions in addition to teaching.
The undergraduate certification program in early childhood has two unique features. The first is that all undergraduates must complete an academic major in addition to the certification program. Many undergraduates choose to major in Psychology, American Studies, or Sociology but others have chosen English, Mathematics, Dance or other disciplines as their major. Through an Interdisciplinary major, early childhood teacher candidates can customize their education to prepare for leadership positions such as child care center director or to focus on an area of interest such as the arts or the environment in early childhood education.
The second distinctive feature of the program is the extensive field placements that the teacher candidates experience each semester that they are in the program. Teacher candidates have a placement in a different early childhood setting each semester and are able to observe and participate in 4-5 classrooms by the time they finish the program. University supervisors observe the teacher candidates several times each semester to support their growth.
PROGRAM GOALS
The focus of the program is to help teacher candidates meet the professional standards established by the National Association for the Education of Young Children (NAEYC, 2001). The summary of these standards is shown below. The full text is at www.naeyc.org.
1. Promoting Child Development and Learning
2. Building Family and Community Relationships
3. Observing, Documenting, and Assessing to Support Young Children and Families
4. Teaching and Learning
Connecting With Children and Families
Using Developmentally Effective Approaches
Understanding Content Knowledge in Early Childhood Education
Building Meaningful Curriculum
5. Becoming a Professional
Early Childhood Certification Requirements
Program Coordinators
Patricia Scully, Ph.D.
Associate Professor
Office: ACIV A Wing, Rm. 413
410-455-2307
pscull1@umbc.edu
Mary Rivkin, Ph.D.
Associate Professor
Office: ACIV A Wing, Rm. 410
410-455-2259
rivkin@umbc.edu