Scholarship Opportunities

Teacher Education Scholarship Program
Application due Wednesday, May 1, 2019
The UMBC Education Department offers scholarships to undergraduate and graduate students enrolled in the Early Childhood, Elementary, Secondary, and TESOL programs. All students currently enrolled are eligible to apply. Click here to download Application
Strong Scholars Program Phase II Interns
Application due Wendesday, May 1, 2019 
The Hattie M. Strong Foundation offers scholarships to undergraduate students who have exhibited outstanding successes and enthusiasm in field experiences prior to the final year of their program or to graduate students whose life experiences prior to enrollment reveal the same strengths. One $5,000.00 scholarships will be awarded to UMBC teacher candidates entering PHASE II of internship. Qualifying applicants must have a FAFSA on file, demonstrate financial need, and have GPAs above 3.0. Click here to download Application
Scholarship for UMBC Alumni Entering MAT of Accelerated BA/MAT in Fall 2019
If you are a UMBC alumni entering the MAT or BA/MAT program in Fall 2018, you qualify for a tuition scholarship provided by the UMBC Graduate School. All alumni should apply.
What? A one-time $1000 tuition scholarship (Fall 2018 only extended to Fall 2019)
Who is eligible?  All new graduate students enrolling in all UMBC master's and certificate programs, Fall 18 only.
What else? The UMBC Graduate School is also waiving the application fee for UMBC alumni. The code is RetrieverNation and applicants need to enter it into the special population code area on page one of the online application.
This scholarship is only for new graduate students who:
are/will be admitted for Fall semester
hold a degree or will have a degree from UMBC before Fall 18. Previously admitted students to the Fall 18 semester qualify as well as any accelerated students admitted as graduate students for the Fall.
No refunds will be given to those alumni who already applied, but they can receive the scholarship.
Claim your future now by applying for this special support.
Here's some basic info  https://gradschool.umbc.edu/retrievernation/
Please contact Mike Suica (suica1@umbc.edu) in the UMBC Graduate School for more information.
MAEA Student Scholarship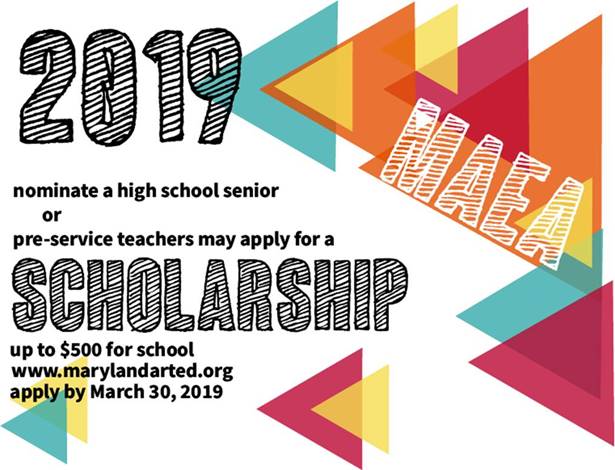 High school seniors who are students in an MAEA member's class during the current school year or current college students majoring in art education may be awarded up to $500 to be used toward college expenses. Art Education is a vital component of every child's core education.  MAEA's mission is to advocate for and advance art education in Maryland.   Visual arts experiences cultivate creative expression, innovative thinking, problem solving, and personal development.  MAEA is committed to helping students who are interested in teaching visual arts to obtain a higher education degree.
Who is eligible:
an MAEA pre-service teacher,
                          OR
a graduating senior attending a high school in Maryland and a student of an MAEA member.  Applicants must plan to major in art education at the college of their choice.
Applications will be judged on the following:
Completeness of application
Transcript review
Letter of recommendation
Level of involvement in arts activities
Essay
Portfolio
Application deadline: March 30, 2019.
Apply online: https://www.marylandarted.org/student-scholarship